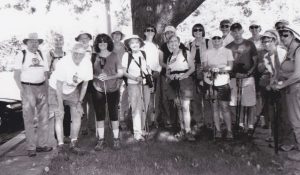 Club History
Forming a local club was discussed in 1934 during an October hike from Crampton Gap (now Gathland State Park) to Weverton Cliffs. A meeting of interested hikers was held at Enoch Pratt Library in Baltimore, MD that December.
By-laws were written and the Mountain Club of Maryland was founded in December 1934. The first official hike was in January 1935. MCM was recognized as an Appalachian Trail club in 1935. MCM has maintained a portion of the AT ever since.
FDR was president. Albert Ritchie was Maryland's governor. Milk was 10 cents a gallon. The Great Smoky Mountains National Park was dedicated. Babe Ruth hit his 700th home run. And the Mountain Club of Maryland was founded in December. The year was 1934.
Orville Crowder was the force behind our hiking club. As an avid hiker he had explored many trails in the western states. He also often hiked in his native Maryland, and was intrigued by the concept of the Appalachian Trail which he learned about in 1933 during a dinner at a friend's home in Catonsville.
The AT was the vision of Benton MacKaye, a forester and conservationist from Connecticut, who thought we should spend more time outdoors hiking and camping. In fact, the U.S. Census in 1920 showed that for the first time in our history more than half of the population lived in metropolitan areas. MacKaye imagined a trail from Mt. Washington in New Hampshire along the Appalachian Mountains into North Carolina. The trail, of course, would eventually stretch from Maine to Georgia.
There was a broad network of hiking trails throughout New England, but not much had developed south of the Hudson River. That would change after the Appalachian Trail Conference in 1925. The trail expanded during the first years, then Arthur Perkins, a Connecticut lawyer, was elected as the second ATC president in 1927. Myron Avery, a law partner of Perkins, was determined to help build the AT.
Avery's job took him to Washington, DC where he started the Potomac Appalachian Trail Club in 1927. He established guidelines for where and how the AT would be built south of the Hudson River. Avery recruited hikers for weekend work trips and convinced others to establish hiking clubs using the PATC as a model. He was instrumental in forming clubs from Allentown, PA to Lynchburg, VA. Examples include a club in York in 1932, the Maryland Appalachian Trail Club in Hagerstown in April of 1934, and the MCM in December of 1934.
Back to our guy, Orville Crowder. After learning about the AT, Crowder went on a PATC work trip. Avery quickly tapped him to lead work trips in 1933 and 1934. The June 19, 1934 edition of the Baltimore Evening Sun included a story about the AT, and Crowder was quoted saying:
The very next month Crowder set up a display featuring the AT in the Enoch Pratt Library.
Crowder organized a hike on Sunday, October 21 from Crampton Gap (now Gathland State Park) to Weverton Cliffs. He promoted it by writing:
Hikers were encouraged to bring lunch and a canteen. Round trip transportation (by chartered bus) was 65 cents.
He was pleased when 27 hikers joined him. Crowder suggested the formation of a hiking club when the group stopped for lunch at Weverton. He led two hikes in November: one from Smithsburg to Pen-Mar and one from Ilchester to Orange Grove. A meeting to discuss the formation of a club was held on Dec 4, 1934 at the Enoch Pratt Library. The featured speaker was Myron Avery. Crowder, Alex Kennedy and Osborne Heard wrote the MCM Club bylaws soon after the Dec meeting and a Trip Schedule was created. The first official MCM hike was in January 1935. The purpose of the new club was AT maintenance, and its tool collection included five pairs of shears and two weeders. But the MCM offered more than hiking and AT maintenance. Groups within the club focused on birding, photography, skiing, canoeing and other outdoor endeavors throughout the year.
Myron Avery, president of PATC, pushed for an affiliation between the MCM and the Potomac Appalachian Trail Club (PATC) early in 1935. The MCM officers discussed it but did not approve it until Dec 1935. The January 1936 PATC newsletter noted that "PATC and MCM are now affiliated as partners." Our own MCM Bulletin clarified: Baltimore Club members automatically become associate members of the Washington Club with full membership privileges; ie, club shelters without charge, exemption of guest fees on Washington Club trips, use of Washington Club tools and free maps. We look forward to a long and happy association with our Washington friends."
MCM dues were $1.00 in 1935. A report on May 21, 1941 showed $747.02 in the club's treasury. Dues were $3.00 in 1943, and the club sold tin cups for 20 cents. Cups were often taken on hikes because the club typically supplied coffee.
Two clubs preceded the MCM in Maryland. The Wanderlusters Hiking Club was founded in 1910 (some reports show 1913) and held hikes each Sunday. In June 1934, The Maryland Appalachian Trail Club was founded in Hagerstown. Interestingly, Myron Avery was instrumental in forming the MATC as well as the MCM in 1934. The MATC thrived until the 1970s.
The Baltimore Sun ran a story in Nov 1938 about a four-club outing in the Catoctin Mountains. Orville Crowder, president of the MCM, organized the four-day event which was attended by 154 hikers. Included were 62 members from MCM, 49 from PATC, 28 from MATC, and 15 from the York (PA) hiking club. It was a well-organized event with a program booklet that included the agenda, a wide variety of day hikes, a list of evening entertainment and a map that highlighted the mess hall, tent area, and indoor lodging.
The MCM held the Marathon on June 23, 1940. It was later called the End-to-End Hike, and eventually became known as the HAM (Hike Across Maryland). Twenty one hikers stayed at Camp Ritchie, a U.S. Army Camp near Pen Mar on June 22. A club newsletter noted with a touch of humor that "14 finished the hike and the seven who did not finish were buried along the route under neat white crosses with suitable inscriptions." The HAM hike is now a biennial event.
Summary: Myron Avery helped form hiking clubs from PA to VA in the 1920s and 30s, including the MCM. Orville Crowder, a Baltimorean, joined the PATC and Avery put him in charge of PATC work trips 1933-1934. Crowder organized a hike from Crampton Gap to Weverton in Oct 1934 with the sole purpose of starting the MCM. The club was formed in Dec 1934. The first club hike was in January 1935. Nearly a year later the MCM and PATC became affiliated: MCM got to use PATC tools, maps and shelters while PATC got a portion of MCM member dues. Today, MCM is an active hiking club with more than 600 members. Mr. Crowder would surely be pleased.
Historic Celebrations
Club members gather every five years in October to retrace the footsteps of our founders' initial hike from Crampton Gap to Weverton Cliffs. A picnic typically follows at Gathland State Park. The hike in 2019 celebrated the Club's 85th year.
Plan now to attend our 90th year celebration in October 2024.
MCM also produced booklets in 1984 and 2009 to commemorate our 50th and 75th anniversaries, which feature insights and recollections from some of the club's early members.
Click here to open: MCM: In Honor Of Our 75th Anniversary
Click here to open : MCM First Person 1934 – 1984, reminisces from the Club's early leaders.
Anniversary Celebrations
Every five years, club members gather for an anniversary picnic and hike to retrace the footsteps of our founders' first MCM hike from Crampton Gap to Weverton Cliffs. MCM also produced special books in 1984 and 2009 to commemorate our 50th and 75th anniversaries, with insights and recollections from many of the club's early members: