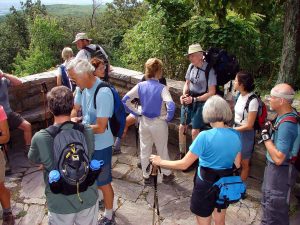 Volunteer Opportunities
The Mountain Club is the oldest hiking club in Maryland (since 1934) and the premier hiking group in the state. We are a volunteer organization that is centered on hiking.
We support "Leave No Trace" principles, and work on both local trails in the Baltimore metro area and on the Appalachian Trail. In addition to leading hikes other outdoor activities include camping, canoe/kayak trips, and weekend backpack trips. We have a year-round activity schedule in and around Maryland, Pennsylvania, Virginia, West Virginia, New Jersey, and Delaware.
Since its founding in 1934, the Mountain Club of Maryland has relied on its members to support a variety of activities. Service to the Club has always been strong.
Officers
Serve a term on the MCM Council, which meets bi-monthly. There are elected positions and volunteer positions needed to keep the Club running smoothly! The office of president is a two-year term and some officers serve one year. Consider volunteering to support the Club.
Projects
Raise your hand and volunteer your time to assist with the website, planning our annual picnic, recruiting new members or working on community outreach.
Adopt-a-Trail
MCM adopted two trails in Patapsco Valley State Park. Various Club members pick one of the two trails to hike once a month. A one-page report form goes to the Park to alert rangers about trail conditions. There are 200 miles of trails in PVSP, so our small effort helps the Park check trail conditions. For more information, contact: localtrails@mcomd.org.
Community Outreach
Assist with events to promote MCM or write stories for our newsletter, Hiker High Points.
How to Volunteer
If you are interested in performing volunteer work with MCM:
For Appalachian Trail work, see our pages here and here.
For all other MCM volunteer opportunities or questions, please email us at Volunteer@mcomd.org.